Development
Top UI UX Agency of 2023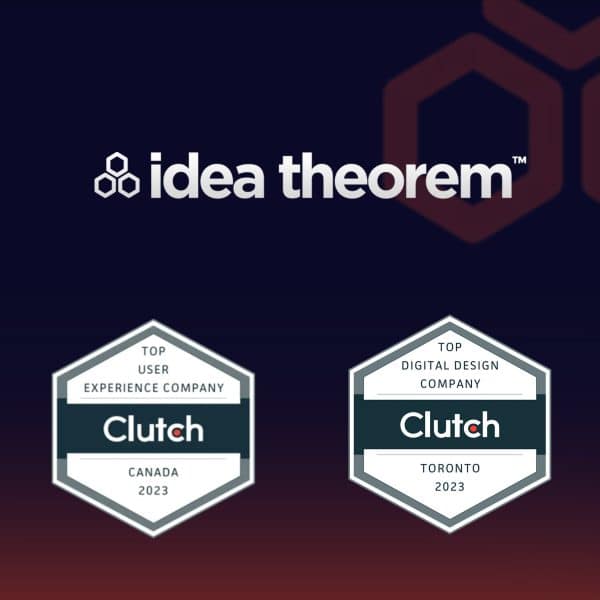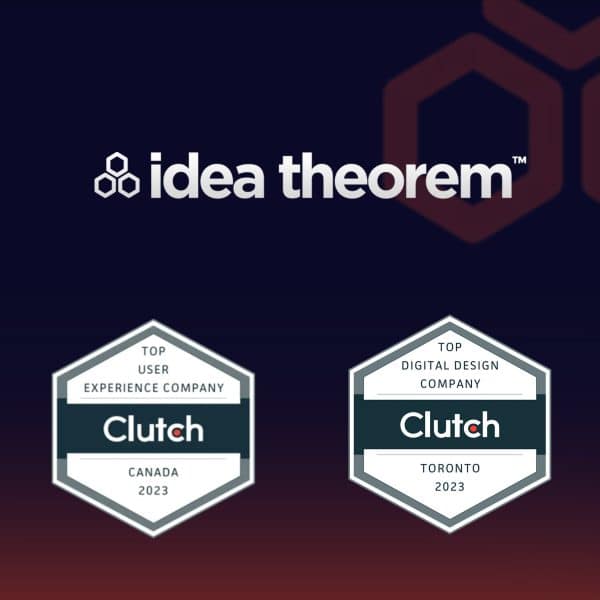 We are excited to share that our team has again been named one of Canada's top UI/UX agencies by Clutch.co! This recognition is a testament to our unwavering commitment to providing high-quality design solutions to our clients.
At our agency, we are passionate about UI/UX design and its impact on a business's success. Our team of experts works tirelessly to create user-friendly interfaces that look stunning and provide a seamless experience for the end users.
Here at Idea Theorem™, we integrate our passion for UI/UX design with insights acquired from years of professional practice in the industry. We stay current with the latest design trends and continuously seek new and innovative ways to create impactful design solutions for our clients.
Our capabilities extend beyond just UI/UX design. Our diverse range of services, which includes web and mobile app development, user interviews, testing, and more, enables us to offer comprehensive design solutions that cater to all our clients' design requirements.
"We are incredibly grateful to our clients for their support and trust in our team. With this recognition from Clutch, we are more inspired than ever to continue shaping the digital future by delivering exceptional experiences through our designs!" Suhela Kapoor, Chief Experience officer (CXO) for Idea Theorem™
Top UI UX Agency in Canada
Reviews
Being a top-performing agency listed on Clutch's top UIUX ranking, we have amassed several outstanding reviews, and we are thrilled to share some of the feedback provided by our clients.
Client review from Woodbine Entertainment Group
Woodbine Entertainment Group, founded in 1881 as the Ontario Jockey Club, features Toronto's sole casino, racetrack, and event venues like restaurants and bars with diverse atmospheres. The group desired a digital presence revamp to maintain its status as a top destination for all types of events.
We performed a UX Audit for Woodbine's Host Your Event website and discovered several areas where the UX could improve, although the website was functioning correctly. The audit results surprised the Woodbine team, who used the recommendations to revamp the website.
We completely redesigned the website's UX to make it easier to book venues and showcase hosting capabilities, leading to a significant increase in engagement (32% boost in time on site, 45% more page views, and a 16% increase in conversions).
"The team at Idea Theorem™ took the time to understand our business needs and challenges and ultimately produced an excellent solution. Their UX research and design is incredibly thorough, and it shows in the final product. We didn't hesitate to begin another project with them once our first website build was complete." – Andrew Fuss, Senior Marketing Manager
Client Review from Green P Parking
Toronto aimed to revamp the UI and UX of their Toronto Green Parking Application to enhance customer experience. We conducted an app audit to improve usability, add new features, and align with the brand image to ensure a customer-centric message and pleasant UX.
Idea Theorem™ provided substantial value to the project and confirmed it was on the right track at a reduced cost. We collected qualitative and quantitative insights on the app's UI, UX, and CX, identified user expectations, and optimized the app UI flows in the pre-development phase. Our changes resulted in a seamless, quick, and easy registration process, a well-received location feature, a simple Quick Park function, and a well-loved FAQ search feature.
"The Idea Theorem™ team worked efficiently to host focus group sessions and supported conducting a customer survey to gather and synthesize insights and recommendations in a digestible and insightful manner."Sasha Rana, Director of Customer Experience & Marketing
Client Review from IBM
IBM's Co-Marketing program provides funding and resources to eligible Business Partners to drive marketplace demand. The program's online portal, "IBM Partner World Co-Marketing," offers tailored solutions and resource access for different partner users based on their specific needs and roles.
Idea Theorem™ was assigned the task of reimagining the user experience of their complex portal product, which involved multiple personas and workflows. The objective was to design a personalized user experience for each persona.
Idea Theorem™ designed a clean and intuitive user dashboard for IBM's Co-Marketing Portal to assist Business Partners with marketing resources, assets, and funding to drive revenue and demand.
Our team created personalized user experiences for different job roles and personas by streamlining the process and design of the internal portal windows. As a result, the portal is now user-friendly and easy to navigate, regardless of the user's needs and objectives.
Conclusion
In conclusion, we immensely thank our clients for contributing to our success. We are excited to receive more feedback from you and utilize it to improve our services and broaden our service options with Clutch.co as we continue to grow.
We are proud to be recognized as one of the top UI/UX agencies in Canada by Clutch.
As we look toward the future, we remain committed to shaping the digital future by delivering exceptional experiences that help businesses succeed.
With our team's passion, expertise, and dedication to innovation, we are excited to continue driving growth and success for our clients and contributing to the broader design community.
Thank you for joining us on this journey, and we look forward to many more years of creating impactful designs and solutions together.
A huge thank you to our clients for helping us achieve this success – we can't wait to hear more from you and expand our service offerings as we receive feedback through and grow with Clutch.co. Also, check out our work!
—
What's Next
Idea Theorem™ is an award-winning design & development agency based in North America. Through our empathy-driven approach, we have crafted digital products that have positively impacted over 10 million users. Our mission is to shape the digital future by delivering exceptional experiences. Contact Us if you have any questions; we will gladly help you.